Short Bio
Americana powerhouse vocal trio Red Molly is known for their gorgeous harmonies, crisp musicianship, infectious songwriting, and warm, engaging stage presence. Laurie MacAllister (bass), Abbie Gardner (Dobro), and Molly Venter (guitar) weave together the threads of American music — from folk roots to bluegrass, from heartbreaking ballads to barn-burning honky tonk — as effortlessly as they blend their caramel voices into their signature soaring, crystalline three-part harmonies.
Organic musicianship, a respect for the traditions of American music, and an obvious love of crafting music together lend a joyous atmosphere to their legendary live performances, and a natural balance to their studio recordings.
Gracing stages from Denver to Denmark, from Australia to Austin, Red Molly is renowned for their live shows. Four-time featured artist at MerleFest, breakout stars at RockyGrass, and the darlings of the Bristol Rhythm and Roots Reunion, the "Mollies" bring audiences to their feet, whether it's on a grand festival stage or in an intimate concert hall.
After 11 years of touring, Red Molly announced that starting in September 2015 they'd be taking an indefinite hiatus from the road. They began working on other musical pursuits, and have just announced that they are coming together to release four new projects. The ladies are recording six brand new Red Molly songs, and are each making a brand new solo record. They chose PledgeMusic as the platform for their first-ever fundraising endeavor, which begins on Valentine's Day, Febuary 14, 2017.
AND ... as part of this very exciting year, the ladies are announcing plans to do a handful of Red Molly shows in Fall 2017!
"From Day One, Red Molly conjured musical magic. A decade later, they've honed their songwriting, their covers, their playing and, above all, their harmonies into something joyful and sublime."
-John Platt, WFUV FM, Sunday Breakfast
"Femme Phenom! No root from the grand tree of music is left untouched - classic country heartbreak, undeniable swing, authentic folk, gospel rock with an edge, and Americana stomp. With smart production, a strong thread runs throughout the album and every note sung is upheld on cosmic harmony. Red Molly is unstoppable. Highly recommended."
-Mary Sue Twohy, SiriusXM Satellite Radio
Long Bio
If one word describes Red Molly's music, that word is joyous. From their soaring, signature harmonies to the rich, varied tones of their individual voices, Red Molly is simply a joy to listen to. Their brilliantly wrought a capella tunes are love letters to the art of the vocal blend, and their innovative instrumentation is perfectly suited for foot stomping bluegrass-tinged barnburners and perfectly crafted heart-full ballads alike.
Though each of them shines alone, the true majesty of Red Molly comes with the effortless blend of their voices. Together Red Molly's vocals swell and swoon in a way that raises goosebumps.
Laurie, Abbie, and Molly each have wonderfully distinct voices, both in their actual vocal timbre and in their individual songwriting styles and song choices. Abbie is the balladeer in the sawdust bar, singing in the blue lights, making us cry into our beers. Molly is the mirror, finding the truths of loss and history and the full joy of love and putting it to the perfect tune we somehow feel like we knew all along. Laurie is the storyteller; the songs she sings crack open the heart and run like trains through the landscape of our memories.
One of the most moving things about Red Molly's music is the honest sense that you're watching three dear friends sharing songs in their living room, and this feeling goes all the way back to their origins. Red Molly got its start with the simple joy of singing at a campsite, when they first felt the electricity that comes when voices blend together like honey and whiskey. That synergy and harmony carries through to today, on their newest studio effort, aptly titled "The Red Album".
This latest recording, the group's second since the departure of founding member Carolann Solebello, is their freshest and edgiest to date. After immersing themselves in songwriting, the Mollies made a conscious decision to record more original songs than on any previous album, making their choice of specific covers all the more significant. With their arsenal of new songs and select favorites at hand (including a very long-awaited cover of the song that is their namesake), the band traveled to Nashville to work with producer Ken Coomer (drummer for Uncle Tupelo and Wilco), and the result is a darkly percussive, wildly cool, and powerfully different collection of songs than you'd expect from a ladylike folk trio. "The Red Album" marks a distinctive shift towards a darker, less traditional vibe, though its reverb-heavy noir-storytelling is still underpinned by the exquisite vocal clarity for which Red Molly is loved. With delicious torch songs streaming effortlessly into gorgeous, impeccably harmonized ballads, "The Red Album" is like an Opry love note by way of East Nashville.
"The Red Album"
1. Clinch River Blues
Immediately setting the album's darker tone with an infectious, polyrhythmic groove, a sinful backbeat, and a growing, singable hook that grabs you and won't let go, it's easy to see why Laurie has been keeping this dark gem in her gunny sack since she first heard it in 2008. With the dobro humming like a rattlesnake and vocals plaintive like a confession, "Clinch River Blues" is instantly addictive. Being bad never felt so good.
2. I Am Listening
A sweet love song, "I am Listening" is the first song Molly wrote on the piano. It expresses the earnest desire to show up for that magical, tentative, early stage of romantic love, and accordingly, its spare composition grows into a lush pop-ballad that is totally mixed tape material.
3. You Don't Have the Heart for It
Drenched in pedal steel guitar and heartbreak, Abbie's classic honky-tonk two-stepper wouldn't exist without the RealWomenRealSongs project - fourteen women across the country writing and sharing a song every week for a year! This was week #26. Sounds great on a road trip, would sound even better in the balcony at The Ryman.
4. Willow Tree
Co-written with her "Goodnight Moonshine" partner Eben Pariser and inspired by her parents Martha and Josh, Molly's wistful, eternal love song's gorgeous chorus, clean, crisp dobro and killer tambourine make it a classic country burner.
5. Homeward Bound (can't really do better than this blurb)
Laurie spent much of her New Hampshire childhood with a record player and headphones, listening to Simon & Garfunkel records, over and over. There are many hundreds of songs out there about being on the road - this one, written almost fifty years ago (in 1965) just keeps on sparkling.
6. When It's All Wrong
Inspired by a comment accordionist John Juxo made one stormy night, "I'm only happy when it's miserable", this song started out its life as a traditional honky-tonk lament, but Abbie's collaboration with songwriter Jonathan Byrd turned it into a noir carnivale of whistles, stomps, and lusty, bluesy, melancholia.
7. My Baby Loves Me
True story: Molly wrote this foot-stomping, sock-hopping, rockabilly love song as an apology for bad behavior—and it worked! Proof that a great hook can get you out of all kinds of trouble.
8. With a Memory Like Mine
This is the third Darrell Scott song Red Molly has recorded. The outrageously talented songwriter perfectly captures the complexities of war, humanity, and loss with classic American imagery and a bluegrass train beat as relentless as the memories it recalls.
9. Sing to Me
Molly wrote this song, a beautiful lullaby, about being far away from the ones we love. Simple, dreamy, accompaniment features a bowed bass, soft and luscious vocal harmonies, and a sultry dobro.
10. Pretend
Another favorite songwriter of Red Molly's, Mark Erelli's playful take on the eternal theme of "let's stay together" transports us to Texas by way of New Orleans. This western swinger has the acoustic trappings of a gypsy jazz dance number and saturated bubbly trombone tones.
11. 1952 Vincent Black Lightning
Abbie first heard Del McCoury's version of this Richard Thompson classic at a bluegrass festival in the Berkshire Mountains when she was a little girl. That's how she got the idea to name the band "Red Molly". Since the band's inception we've had hundreds of requests for this truly great song. Good things come to those who wait.
12. Lay Down Your Burden
Another song from the RealWomenRealSongs project, Abbie wrote this feel-good, gospel-inspired anthem while Red Molly was snowed in together up in Maine. Best with many voices, this one was an instant-sing-along from its very first live performance.
13. Copper Ponies
This staggeringly beautiful a capella song moves exquisitely, the architecture of the song like an love-worn old standard written on a calliope. "Someday all my wishes will rise up from the fishes, and we'll ride Copper Ponies back home."
ABBIE

Abbie Gardner has listened to the sweet sound of high lonesome harmonies since her first bluegrass festival at three years old. Her father, Herb Gardner, is a swing jazz and stride pianist and dixieland trombonist. Watching him laugh as he went off to "work" every day was her first introduction to the joy of being a musician. Abbie's first full-length recording, My Craziest Dream (2004) is an album of jazz standards featuring her father on piano. It earned her an entry in the 2009 Hal Leonard book "The Jazz Singers: The Ultimate Guide." Abbie studied classical flute growing up, but once she started playing Dobro in 2004 she found her main instrument. She traveled to Lyons, CO and Nashville, TN to study with Rob Ickes and Sally Van Meter. Always keen on following the vocal part and trying to find the one really perfect note, instead of a dozen okay ones, Abbie is quickly compiling an extensive discography of recording credits. Her own CDs include Honey on My Grave (2006) and Bad Nights/Better Days (2008, with Anthony da Costa). Abbie has been recognized as an award-winning songwriter, with such accolades as; 2006 Rocky Mountain Folks Festival Songwriter Showcase (2nd place), 2008 Lennon Award Winner (folk) for "The Mind of a Soldier" and 2008 American Songwriter Magazine Grand Prize Lyric Winner for "I'd Rather Be." "The Mind of a Soldier" was also featured on Lufthansa Airlines in 2010. Abbie has had the honor of being part of the songwriting faculty at the 2010 and 2011 Swannanoa Gatherings and assisting at Reso Summit, Nashville's Resonator Conference, for the past several years. She released a solo CD called Hope in the spring of 2011 and wrote and released a song per week for a year as part of the Real Women Real Songs project.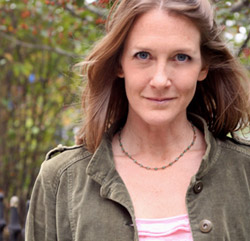 LAURIE

Laurie MacAllister dreamed of being a singer when she was a little girl - singing songs by Dolly Parton, Sheena Easton, and Olivia Newton-John at the top of her lungs into a hairbrush. A subsequent decade-long case of stage fright prevented her from performing publickly. While studying Industrial Psychology in graduate school at NYU, the urge to sing was strong enough that she began going to open mics in NYC. After a short-lived career in the field of management consulting, and landing her first gigs at the Grey Dog's Coffee in the West Village, Laurie decided to pursue singing seriously in 1998. She quit her job and became a singer/songwriter (and also a waitress). With the help of an extraordinary friend, Cheryl Prashker, she released an album of original songs called These Old Clothes in 1999. In 2000, she met Cliff Eberhardt and began singing backup for him at venues around the country, developing a passion for harmony singing, and began the process of overcoming her stage fright. Cliff produced Laurie's next album, called The Things I Choose To Do, which was purchased and released by Barnes & Noble. In 2004, at the Falcon Ridge Folk Festival, Laurie formed Red Molly with Abbie Gardner and Carolann Solebello; just two short years later, due the growing success of the band, she was able to leave waitressing behind forever. Playing about 100 shows a year as part of Red Molly for the last six years has been Laurie's dream come true. Laurie recently landed her first national television spot, singing the jingle in a 2010 Folgers Coffee commercial. Her plan for the future is to have a blast making music with Abbie and the new addition to Red Molly, Molly Venter.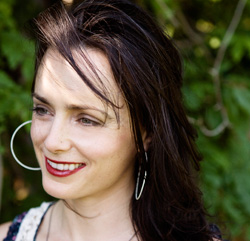 MOLLY

Molly Venter inherited her father's nomadic tendencies along with her mother's love of music. Summertime, aboard the small sailboat "Wanderer," her mother taught both Molly and her brother to play guitar and sing harmony. After graduating Williams College in MA, Venter moved around from Idaho to Mexico before landing in Austin, TX. She released 4 solo albums and spent years crisscrossing the country as a solo artist before joining Red Molly. Venter's calling card is her powerful, nuanced voice, swinging from a silky whisper to a bluesy shout in a single breath. American Songwriter magazine writes "Few singers turn first time listeners into eternal fanatics as effortlessly as Molly Venter." In 2008 she released "Love Me Like You Mean It" - which was picked up by Barnes & Noble distribution and also got the attention of Warner Brothers executives who placed her music in the movie "Impact". Her knack for shedding lyrical light on emotional darkness has earned her placements at Rocky Mountain Folks Fest & Kerrville Folks Fest songwriting competitions. Her songs have also been used in indie films as well as marketing campaigns by Jeep and Apple. Solitary touring life had begun to wear on Venter when, fortuitously, Abbie and Laurie of Red Molly reached out and invited her to audition for the group. In joining Red Molly, Molly gained two terrific musical collaborators as well as the liveliest touring sisterhood a girl could ask for! Venter's latest project, Goodnight Moonshine - a duo album with singer-basist-guitarist Eben Pariser of Brooklyn quartet Roosevelt Dime - recently landed at #12 on the Folk Charts and was the Recommended Hot Pick for Euro-Americana charts. Having spent the last two years in Brooklyn in order to be closer to Red Molly bandmates, Venter now resides in her home town New Haven, CT.